Staff Directory - Details
James Straws, CBI, CFI, CPE, COSS
Building Commissioner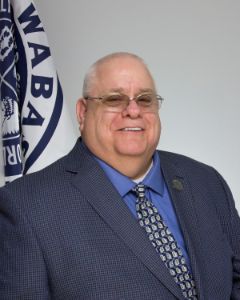 Physical Address


202 S Wabash St
Wabash, IN 46992
Primary Department:
Building Department
Professional Profile
Over my 44 years as a public servant I have served with 5 Fire Departments, 2 EMS Providers, and the Indiana State Fire Marshal's Office. I have attended over 4,000 classroom hours and I have taught over 1,000 classroom hours over my career. Training and education have always been my top priority.
Honorable discharged from United States Navy in 1976.
Firefighter of the Year-Town of North Manchester 1986.
Deputy State Fire Marshal 1988 to 2019
Fire Inspector of the Year- Fire Inspectors Assoc. of Indiana 2005.
Twenty-two years of service as a Firefighter.
Fifteen years of service an Emergency Medical Technician.
Graduate of the National Fire Academy As, a Fire Prevention Specialist I, II,
Code Management and Management of Fire Prevention Programs.
Graduate of the ICS Correspondence School with a certificate in
General Law Enforcement, Private Security Officer, and Residential/Home Inspections.
IFCI Certified Uniform Fire Code Inspector.
ICC Certified Fire Inspector II.
ICC Certified Commercial Building Inspector.
ICC Certified Plans Examiner.
Indiana Association of Building Official's - Nick Nicholson Award 2016-2017
Indiana Association of Building Official's - Earl E. Bowman Memorial Award for Meritorious Service 2021
President-Fire Inspectors Association of Indiana 2007-2009.
Chapter President- International Code Council 2007-2009.
President-Indiana Association of Building Official's 2017-2019, 2022
Chapter President- International Code Council 2017-2019, 2022
President-ICC Midwest Region V 2020-2021
Chapter President- International Code Council 2020-2021
Code Official Safety Specialist (COSS) 2022